Laryngeal Cancer
The larynx is a muscular structure at the top of the windpipe, which includes the vocal cords.1Laryngeal cancer is the 20th most common cancer worldwide. According to Globocan 2020 estimates, there were over 180,000 new diagnoses globally. Laryngeal cancer is more prevalent in men, where 160,000 men were diagnosed with laryngeal cancer vs. 24,000 women. Laryngeal cancer incidence rates vary globally, and Cuba and Montenegro had the highest incidence of laryngeal cancer, with the United States ranking #44.2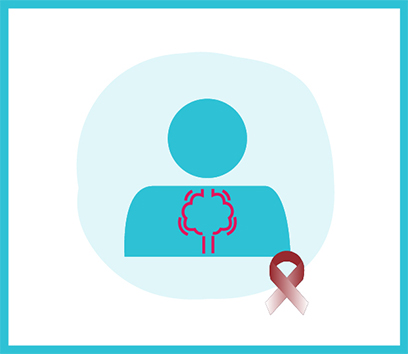 A few risk factors for laryngeal cancer include:3
Gender: Laryngeal cancer is four times as common in men than women.
Age: Over 50% of people diagnosed with laryngeal cancer are over the age of 65.
Race: Laryngeal cancer is more common in Blacks and Caucasians than Asians and Latinos.
Tobacco Use
Moderate or Heavy Alcohol Use
Poor Nutrition
Inherited Genetic Mutations
Workplace Exposures: Long-term exposure to wood dust, paint fumes, and certain chemicals can increase the risk of laryngeal cancer.
To learn more about laryngeal cancer, please take a look through resources we've curated for you by selecting the area you're interested in above.