Melanoma
Melanoma is a type of skin cancer. It is the 17th most common cancer worldwide. According to Globocan 2020 estimates, there were approximately 325,000 new diagnoses globally. Melanoma is more prevalent in men, where 174,000 men were diagnosed with melanoma vs. 151,000 women. Melanoma incidence rates vary globally, and Australia and New Zealand had the highest incidence of melanoma, with United States ranking #11.1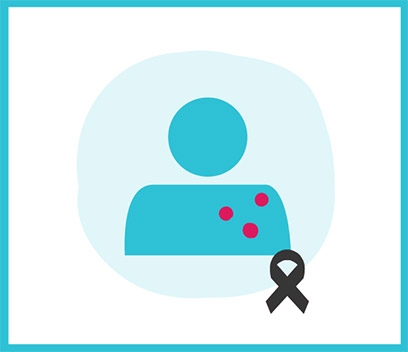 A few risk factors for melanoma include:2
Age: Although melanoma is more common in older people, it is one of the most common cancers in people younger than 30 years old.
Gender: In the United States, melanoma is more common in men than women.
Family and Personal History
Ultraviolet (UV) Light Exposure
Moles
Fair Skin, Freckling, and Light Hair
Having a Weakened Immune System
Xeroderma Pigmentosum: People with this rare, inherited condition have a high risk of developing melanoma and other skin cancers.
To learn more about melanoma, please take a look through resources we've curated for you by selecting the area you're interested in above.